Team
Lara Setrakian
CEO, Co-Founder and Executive Editor
Lara is an award-winning journalist, strategist and entrepreneur. She spent five years in the Middle East reporting via television, radio and digital platforms for ABC News, Bloomberg Television, the International Herald Tribune, Business Insider and Monocle magazine. Her 2009 coverage of Iran's election protests and the Arab Awakening of 2011 garnered industry praise. Lara is a Young Global Leader with the World Economic Forum and a Term Member of the Council on Foreign Relations. She graduated magna cum laude from Harvard University, with a degree in government. Lara enjoys a strong yoga practice, reading poetry and cooking vegetarian meals.
Daniel Beaulieu
Chief Content Officer
Dan is responsible for content strategy and operations on all News Deeply platforms. He previously led the World Economic Forum's Knowledge Lab, the incubation arm of the Global Agenda Councils Network. He was a founding editor of the award-winning national newspaper of the United Arab Emirates, the National, and an editor at both the Middle East and Asia headquarters of Agence France-Presse. As a regional correspondent, he took on multiple assignments in Iraq, the Gaza Strip, the West Bank, Jerusalem, Thailand and Hong Kong. Dan also worked as a journalist for Reuters in Tokyo and the South China Morning Post in Hong Kong. He holds a master's in public administration from the Harvard Kennedy School of Government.
Samir Sheth
Chief Business Officer
Samir is responsible for business growth, strategy and operations at News Deeply. He brings with him experiences ranging from a stint as a consultant at McKinsey, to leadership positions at Sony Music and Bertelsmann, to investing in consumer and media start-ups. He holds a degree from the Wharton School of the University of Pennsylvania. In addition to being a passionate consumer of News Deeply content and an overall news and policy junkie, Samir enjoys playing and composing music, design and architecture, and working with his wife on a social enterprise focused on maternal health in the developing world.
Matt Unger
Chief Product Officer
Matt is the Chief Product officer of News Deeply, where he oversees digital product strategy as well as community development initiatives. Matt has decades of experience building useful and usable digital products for B2B, mobile application development, media, and retail organizations. As the Chief Digital Officer of K2 Intelligence, an investigative consultancy, he led the development of an innovative data analytics practice as well as software tools for case management, information gathering, and data visualization. At Gerson Lehrman Group, he led software initiatives to help recruit, manage, and scale the global expert network at the heart of GLG's business. Prior to his work at GLG, he held leadership and creative technology roles at media and publishing companies like Conde Nast, iVillage, Zagat Survey, and Time Inc. He graduated from Tufts University. When he's not at News Deeply's New York office, he's probably on a bicycle.
Liana Avetian
Director of Strategic Partnerships and Development
Liana has 15 years of experience in strategic partnership and business development, particularly in European and Asian markets. Before joining the News Deeply team, she was a commercial director at Cosmopolitan Armenia, leading strategic partnerships and initiatives in Armenian and Russian markets. Before Liana moved to Armenia, she owned an alternative health center based in Massachusetts in the United States. Liana spends most of her free time playing with her two sons.
Arindam Biswas
Development Operations
Arindam is a backend developer, startup mentor and serial entrepreneur. He's also a founder at CollectiveZen, an award-winning technology services and solutions provider with clients in India and North America. He bootstrapped his first startup in 2000 and went on to merge operations with Mixercast, where his roles included product design and management. His passions include the convergence of commoditized infrastructure, multi-gestural interfaces, the emerging ubiquity of the mobile Internet and location-based services. His daily pursuit of happiness ends with a smile when he makes a difference in the lives of the next generation.
Kim Bode
Manager, Community and Product Operations
Kim Bode is the manager of community and product operations at News Deeply, working at the intersection of community and product. Prior to joining News Deeply, she graduated from New York University's Studio 20 program, which focuses on innovation in journalism, completing a research project with Facebook's Journalism Partnerships team. Born and raised in Berlin, she came to New York in 2011 as Wall Street correspondent for the Financial Times Deutschland and NZZ am Sonntag, and later also reported for Die Zeit. When she manages to get offline, Kim enjoys a steady yoga practice and contemplating where to travel to next.
Amruta Byatnal
Community Editor, Malnutrition Deeply
Amruta is the Community Editor of Malnutrition Deeply. Before joining News Deeply, she was a Program Manager at The Africa Seed Access Index project at Cornell University. She came to the United States in 2014 to pursue a Masters in Public Administration degree at Cornell, where she focused on topics of agriculture, gender and nutrition. She has conducted research and consulted for NGOs and private organizations in various countries including Zimbabwe, Tanzania, and Cambodia. Previously, she worked as a reporter for The Hindu in India, where she covered development and politics in the state of Maharashtra. She is originally from India, and feels at home wherever she can find good vegetarian food and coffee.
Ian Evans
Community Editor, Environment
Ian is the Community Editor of Water Deeply and Oceans Deeply. Before joining News Deeply, he was a freelance science journalist in Boston with a focus on environmental law and policy. He has been published in Undark Magazine, FiveThirtyEight, Nautilus, and more. Ian grew up in California, and before getting into journalism he planned on becoming an ecologist. Instead, he pursued science writing and in 2016 he earned an MS in science journalism from Boston University. When he has spare time, Ian likes to get out and go hiking, backpacking and birding.
Jihii Jolly
Community Editor, Women & Girls Hub
Jihii Jolly is community editor of the Women & Girls Hub at News Deeply. A multimedia journalist with a varied background production and research, she specializes in media, culture and religion, she has written and produced content for the Columbia Journalism Review, The Atlantic and Narratively, among others. She was previously an Innovation Fellow at EdLab Studios, a research, media design lab at Teachers College, Columbia University. In addition to producing her own work, she taught pre-college journalism at the School of the New York Times. Currently, she teaches community engagement at Stony Brook University's Journalism School. She's originally from India, and grew up in New York.
Arpiné Grigoryan
Director of Operations
Arpine Grigoryan is a new media professional, project manager and trainer with 15+ years of experience. Arpine is the Director of Operations at News Deeply and is the head of the Yerevan office. Arpine is actively engaged in co-organizing popular TEDx events in Armenia and the biggest Armenian tech conference BarCamp Yerevan for the past 6 years. Prior to joining News Deeply, Arpine acted as the Head of Corporate Affairs and Communications at PanARMENIAN.Net – the first Armenian online media platform. For the past decade, Arpine has led workshops and training sessions for various organizations and provided communication and marketing support for several local startups. Arpine received her Master's degree in Management Information Systems from the State Engineering University of Armenia and has studied Information Security and Computer Science for her Bachelor's. Her free time Arpine likes to spend reading and sewing. She has established the "Sewing Club in Armenia" with a few thousand members online.
Jessica Kirk
Head - Partnerships and Business Development
Jessica Kirk is Head of Partnerships and Business Development at News Deeply. She works with organizations who want to gain brand visibility, amplify issues, or derive insights from the unique assets within the News Deeply platforms. She has held leadership roles in business development serving global corporations, financial services firms, management consulting firms and agencies. Prior employers include Siegel+Gale, the Corporate Executive Board (CEB), and Gerson Lehrman Group (GLG), providers of branding, research, and insights. She volunteers with the American Red Cross in Public Affairs, the Bryn Mawr College Alumnae Association, and Nothing But Nets. She has been published in Forbes and CMO Essentials, and is a member of the Forbes Business Development Council. She lives in New York City with her family.
Laura Mandel
Director, Partnerships & Business Development
Laura is responsible for sales and business development at News Deeply. Prior to joining the team, she worked in syndication and licensing for The New York Times, as well as in fundraising for a social justice philanthropy. She graduated summa cum laude from the University of Pennsylvania with degrees in History and French and is passionate about human rights, women's rights and foreign languages. Currently based in New York, Laura has lived and worked in both Paris and Jerusalem.
JC Medina
Senior Product Manager
JC is a product manager and digital producer responsible for shipping dozens of software projects since 2001. Prior to joining News Deeply, he was a senior manager at LookSmart Ltd., leading strategic initiatives in adtech, ecommerce, and social media marketing platforms. Before he moved to New York, JC managed the corporate development and mentoring program of G2VC, a venture capital firm based in Manila, Philippines. With years of entrepreneurial and corporate experience, JC has advised a handful of startups on product strategy and customer acquisition. A passionate runner, JC has completed multiple half and full marathons in the past eight years.
Ali Moore
Chief Copy Editor
Ali Moore is the chief copy editor for News Deeply. She has an extensive catalog of experience, spanning a full range of roles, from commissioning editor to project manager, and working with a number of high-profile organizations, including Microsoft, the Consumers' Association, Reader's Digest, Time Magazine, the Glasgow Herald, McGraw-Hill, Bertelsmann, Bloomsbury and the Institute of Education, as well as being an occasional seller of vintage clothing. When not at her desk or running a busy household, she enjoys Glasgow's vibrant music scene.
Natalie Sikorski
Community Editor, Geopolitics
Natalie is the community editor of Geopolitics at News Deeply. Previously, she worked with Nonviolent Peaceforce both as a programme officer in Beirut, Lebanon, focusing on the Syria response, as well as in advocacy and outreach in New York. She is currently finishing her master's degree in Violence, Conflict and Development at SOAS, University of London. Outside of News Deeply, Natalie's interests include horse riding, travel, and theatre.
Todd Woody
Executive Editor, Environment
Todd oversees News Deeply's environmental news platforms. A veteran environmental journalist, he previously was the editorial director for environment at TakePart, a digital magazine owned by Participant Media. Todd has also served as a reporter and editor at Fortune, Forbes, Business 2.0 and other national magazines and was the business editor of the San Jose Mercury News. He was a frequent contributor to the New York Times, The Atlantic and Quartz, covering green technology and other environmental issues. Todd is based in California, where he is an avid surfer and hiker. A former resident of Australia, he's one of the few people to have seen the critically endangered northern hairy-nosed wombat in the wild.
Our Managing Editors
Alessandria Masi
Managing Editor, Syria Deeply
Alessandria is the managing editor of Syria Deeply and chief of News Deeply's Beirut bureau. She leads the day-to-day operations for Syria Deeply, working to bring readers the most in-depth, multi-faceted and unbiased coverage of the ongoing conflict. Previously she was the Middle East Correspondent for International Business Times. She was a featured author in the 2016 edition of "Attacks On The Press" with the Committee To Protect Journalists and her coverage of the Syrian refugee crisis won a Society for American Business Editors and Writers (SABEW) international reporting award. She is a native of Canada and a cat enthusiast.
Tara Lohan
Managing Editor, Water Deeply
Tara Lohan is managing editor of Water Deeply. She's been writing about the confluence of water and energy issues for more than 15 years and spent seven years as a managing editor at AlterNet. She's the editor of two books on the global water crisis and her work has been published by the Nation, Salon, the American Prospect and others. She holds a bachelor's in environmental studies from Middlebury College and a master's in narrative journalism from the University of Oregon. She tweets from @TaraLohan and lives in San Francisco.
Charlotte Alfred
Managing Editor, Refugees Deeply
Charlotte Alfred is managing editor of Refugees Deeply. Previously, she was a reporter for the Huffington Post, focused on Africa and the Middle East. She has worked on several documentaries for PBS Frontline, including Egypt in Crisis. Formerly, she was English editor at Ma'an News Agency based in the West Bank. She has a master's degree in Middle East Policy Studies from the University of Exeter.
Megan Clement
Managing Editor, Women & Girls
Megan Clement is managing editor of Women & Girls at News Deeply. She has broad experience covering human rights, gender, development, politics, science and environmental issues. Megan was part of the launch team for The Conversation in 2011, and helped establish the site in four countries worldwide – Australia, the UK, the US and France. She has made appearances on the BBC, Sky News and Radio National, and was awarded a Human Rights Media Award in 2012 for her work on asylum seekers. Megan lives in Paris.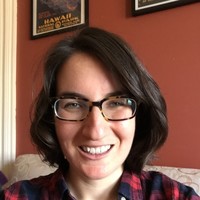 Jessica Leber
Deputy Managing Editor, Oceans Deeply
Jessica Leber is a New York City-based journalist, writer and editor who has covered environment, science, tech, and health topics for a decade. Prior to joining Oceans Deeply as deputy managing editor, she held staff positions at Fast Company, MIT Technology Review, ClimateWire, Vocativ and Change.org. She graduated from Columbia University's Earth and Environmental Science Journalism dual-degree master's program in 2008. Before going into journalism, she majored in environmental chemistry and worked as a geologist helping to assess and remediate some very polluted properties in New York City. After a few years, she decided she'd rather write about the fumes than breathe them in it. She can be reached at jessica@newsdeeply.com.
Andrew Green
Deputy Managing Editor, Malnutrition Deeply
Andrew Green is the managing editor of Malnutrition Deeply. Andrew has covered stories about issues of health, human rights and politics from three different continents. His work has appeared in The New York Times, The Atlantic and The Washington Post, among many other publications. He is the former Voice of America bureau chief in South Sudan the web editor for the Center for Public Integrity. He tweets from @_andrew_green and lives in Berlin.
Advisors
Azeo Fables
Co-Founder, News Deeply & Lead, Media and Technology Portfolio, IDEO
Turi Munthe
Founder of Demotix
Andrew Russ
Venture Capitalist
Dave Poritzky
Senior Advisor, Mission Deeply Summit
Brian Behlendorf
Founder of Apache Foundation
Deborah Amos
Award Winning Journalist & Author
Alex-Lovell Troy
CTO Of OneLeap
Chris Schroeder
Entrepreneur & Investor
Stephen Armstrong
President of National Council for Social Studies
Soumyadeep Paul
Technical Advisor
Ramzik Abnous
Chief Architect, Documentum Inc.
Binta Brown
Co-Founder & CEO, Fermata Entertainment
Soraya Darabi
Co-Founder, Zady
Kevin Doyle Jones
Co-Founder, Good Capital
Timothy Freundlich
Co-Founder, Good Capital
Susan McPherson
Founder, McPherson Strategies
Adaora Udoji
CEO & Founder, Outloud Inc.
Dan Gillmor
Director, Center for Citizen Media